Star-cross'd lovers: Regent's Park and Romeo and Juliet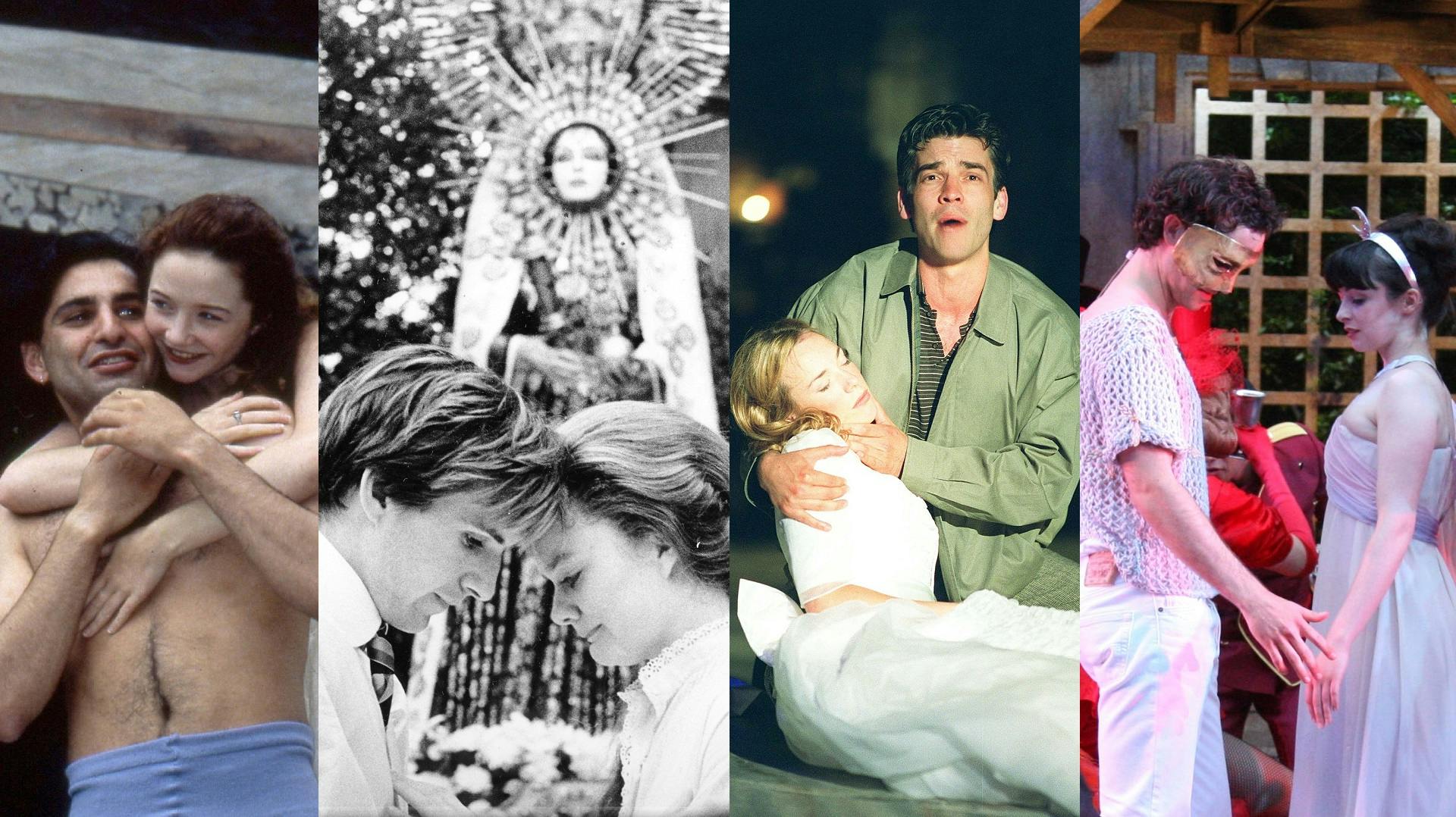 Ahead of the 2021 production of Romeo and Juliet, directed by Kimberley Sykes, we're exploring the relationship Regent's Park has had with Shakespeare's most iconic tragedy.
To date, the venue has seen six versions of the story take to the stage; here we'll take a look at some key aspects of those productions.
First production - 1934
The first production of Romeo and Juliet at Regent's Park took place in 1934 – just two years after the theatre was established. Back then, the theatre was very different to the venue you know now: instead of a fixed stage and proper auditorium seating, actors played on a small patch of grass to audiences who sat in in deck chairs and slatted park chairs.
1934 audiences were perhaps unaware that they were witnessing someone that would soon become a huge 1940s motion picture star as they watched a 29-year-old Greer Garson (Mrs. Miniver) perform in the ensemble. Greer Garson would go on to be a seven-time Oscar nominee, matching Bette Davis in receiving the highest number of consecutive Best Actress Oscar nominations – five in total.
Greer is also credited with the longest acceptance speech for her 1942 Oscar win; in his book, A Rose for Mrs. Miniver: The Life of Greer Garson, biographer Michael Troyan explains, "Greer quickly apologised for being unprepared ("I feel just like Alice in Wonderland"), and then launched into a five-and-a-half-minute speech that would become legendary. It seemed as though she thanked everyone who came to mind, from her Hollywood peers at MGM to the doctor who delivered her into the world in London."
Before they were famous – 1971, 1986 and 2002
Greer Garson was not the last famous face to grace the stage at Regent's Park prior to becoming a household name. Years later in 1971 – on a fully built stage and in front of an audience enjoying fixed amphitheatre seating – ten years before he would shoot to fame in the television adaptation of Brideshead Revisited, Anthony Andrews appeared as Balthasar. He went on to play Mustardseed in A Midsummer Night's Dream later that season.
The 1986 production of Romeo and Juliet featured two young men who would go on to be film and television stars. Ralph Fiennes (Schindler's List, Harry Potter) featured as Romeo whilst Hugh Bonneville (Notting Hill, Downton Abbey) appeared as Abram. Interestingly, both actors began their stage careers with performances at Regent's Park but, whilst Fiennes first appeared in 1985 as Curio in Twelfth Night, Romeo and Juliet was also Hugh Bonneville's stage debut. 16 years later Benedict Cumberbatch (Sherlock, Doctor Strange) would also make his stage debut at the Open Air Theatre when he appeared as Benvolio in Dominic Hill's 2002 production.
Our patron - 1993
Dame Judi Dench has a long association with the Open Air Theatre. She first appeared at the venue in Sweet Mr Shakespeare in 1976, and in 1991 she notably directed a production of The Boys of Syracuse which went on to win the Olivier Award for Best Musical Revival. In 1993, her first year being a Board Member of the theatre (1993-2015) prior to becoming our Patron, she directed the Open Air Theatre's fourth production of Romeo and Juliet.
A new era - 2008
2008 marked a significant year in the Open Air Theatre's history, with the introduction of a wholly new executive team: Timothy Sheader as Artistic Director and William Village as Executive Director. The same team still lead the venue today.
If you've listened to our latest podcast, you'll know that Sheader opened his first season as Artistic Director with Romeo and Juliet. The 1950s setting of the Sheader's production garnered praise from The Guardian for, "Fotini Dimou's ravishing 1950s costumes", which they claimed were, "better than a catwalk show". The Evening Standard also complimented, "Sheader's Fifties Mafia-country production of Romeo and Juliet... is stamped with invention, surprise and imagination". Be sure to take a look at the production's dedicated heritage production page to see Costume Designer Fotini Dimou's designs.
And now - 2021
The 2008 production was the most recent performance prior to next year's 2021 production. We're delighted to welcome Kimberley Sykes as director of our latest production which opens in July 2021.
Find out more about the 2021 production of Romeo and Juliet.